Print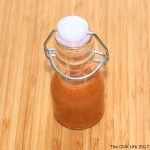 Carolina Reaper Banana Hot Sauce
This is the hottest banana you'l ever taste! Just kidding, it's a hot sauce recipe that uses the sweetness from the banana and the heat from the Carolina Reaper pepper! It's fermented using lakto bacteria. The result was a thick and extremely hot sauce with a hint of sweetness.
5

Carolina Reaper Chili Peppers

Any pepper would do but if you use super hot peppers, wear gloves!

1

Banana

1

Lime

2

Cloves

garlic

3

tbsp

Whey

See instructions

4

dl

Water

1

tbsp

Salt
Whey Starter Culture:
Pour the water in a sauce pan and add the salt. Let it simmer on the stove until the salt is dissolved. Put aside and continue with the other ingredients.

Slice the Carolina Reaper peppers and remove the seeds. Removing the seeds is optional but they can be used to grow your own peppers.
Hot Sauce:
Mince the peppers and garlic.

Slice the banana,

Squeeze the juice out of the lime

Add everything into a blender and mix until it becomes a mash

Put the mash in a jar. The size is not super important. However, it should be 5 cm between the brine and the lid of the jar. Put a cheese cloth over the jar and put it somewhere dark for 30 days.
Finalizing the Sauce:
Now when your mash is fermented put the mash back into a blender and mix until it is smooth. Filter the sauce through a sieve (if there are chunks left).

Cook the sauce for 30 minutes. Stir occasionally and add water if the sauce gets to thick. Pour your super hot sauce into glass bottles!
Whey is not an option for everyone and can be substituted for other fermentation starter cultures. There are many freeze-dried cultures that can be bought but I have only used a salt brine and whey when fermenting stuff. Kombucha or juice from sauerkraut can be used as substitute.
Carolina reaper peppers are extremely hot. Consequently, the sauce will be hot and you can replace the peppers with any chili fruits you like.